Today many companies are realizing that to create effective work environments we must understand how people truly collaborate, and how businesses should use and harness the power of it. The right solution can vary from company to company based on their DNA.

In this webinar, Kay Sargent, Director of Workplace Strategies for Lend Lease, shows how to determine your organization's unique DNA and arms you with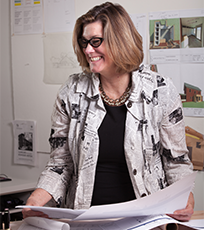 tools to repeat these lessons and techniques back in your own organization. She helps overcome common myths such as "every company has the same needs" and "open, universal plans are always best" and validates ideas like "encouraging movement supports healthier employees" and "industry, demographics and regional all influence design".

This webinar will help you:

Identify how to determine your current corporate DNA
Define the various forms of collaboration and the various methods of, and ways, we collaborate
Understand the work styles and activities that are common today

Identify the right mix of space to create a balanced, productive work environment

About the Presenter

Kay Sargent, Director of Workplace Strategies
Lend Lease
Kay Sargent joined Lend Lease in May of 2014 bringing over 30 years of experience in the interiors industry. Prior to joining Lend Lease Kay served as Vice President of Architecture, Design and Workplace Strategies for Teknion, a major furniture manufacturer. In that role Kay led the effort on research related to workplace, well-being, change management and worked with the team to assist the A+D community and clients with creating the right workplace solutions to meet their business needs. Prior to serving as an Executive at Teknion, Kay was a Principal for Interior Architects of Washington, D.C., where she spearheaded the office's business operations, workplace strategies and the management of key clients, both corporate and government.

Access the Corporate DNA Webinar Now
Please enter your information for access to the Webinar