Make your people happier with choice and maximize utilization of workspaces and meeting rooms.

Find out how the OnBoard
®
Workplace Management System can help your organization support the changing needs of the workforce while maintaining productivity and reducing the cost of the workplace. This product datasheet provides an overview of the core capabilities, features and functions of the latest version of OnBoard.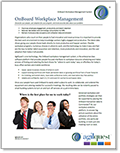 Download the OnBoard Product Datasheet for:
The value of OnBoard to organizations
Different applications of the system
Features & functionality
Interfaces and Integrations

Learn more about OnBoard in the datasheet now!