Don't fall short on finding the right meeting room management solutions by not taking the initial first steps of assessing what problems are unique to your organization.

Modern workplace technologies have provided people and organizations a tremendous amount of options for best utilizing space and resources - from out of box solutions available with common office tools by Microsoft or Google to simple digital signage, to a customizable software system. The key is determining what will work best for your people.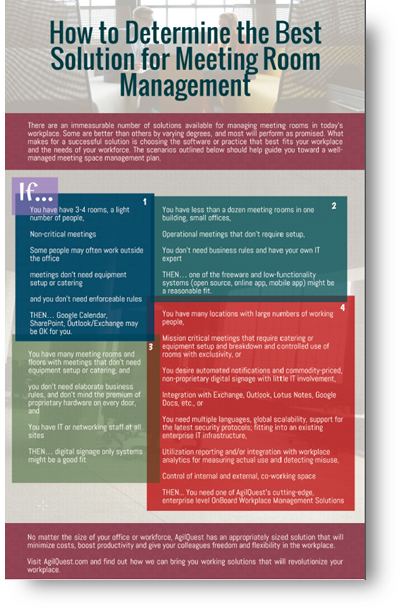 This guide will help you understand your options and determine the best for your organization by looking at several factors:

Number of meeting rooms
Setup, Catering and IT resources needed
Business Rule requirements
Complexity of multi-point meetings including A/V, multi-language, security and IT support
What's the best fit for your organization?
Access the "How to Determine the best Solution for Meeting Room Management" Datasheet Now
Please enter your information for access to the Datasheet