When your staff is telling you there is never a room available for their meetings, you know you'll never get new construction approved and now you can't find an available meeting room for your meeting about meeting rooms, it is time to reevaluate your meeting room options. Luckily, there are several ways to find additional space or to free up existing space.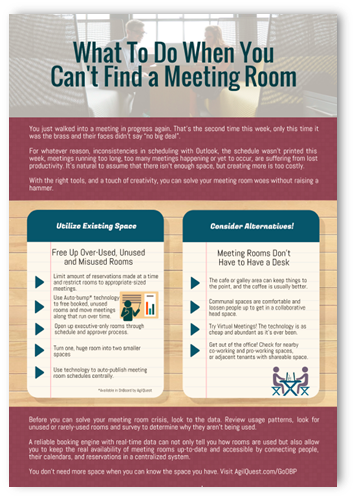 AgilQuest has compiled the top ways to deliver a miracle the next time someone complains "I can't find a meeting room!" and we've created a helpful, free guide you can start using right away.

Download What to Do When You Can't Find a Meeting Room now and learn how to best use your space.

When you've done all you can without a system, you can still count on AgilQuest. Meeting Room Management is often overlooked in the small to medium sized business market due to staff size restraints and prohibitive construction costs, but often times better planning and utilizing meeting room booking software can solve many meeting room woes by reevaluating how you're utilizing your space.

Access the Download "What to Do When You Can't Find a Meeting Room" Datasheet Now
Please enter your information for access to the Datasheet